HTA Story Room Sessions | Thank You!
22nd July
This was a lovely way to spend our Friday morning here at the HTA – in the company of Harris Tweed® weaver Donald A Martin and a friendly group of visitors to the Story Room.
Thank you, Donald, for sharing your expertise today and providing an extra bit of TLC to our loom too (something we know they need a lot of, and often!)
We'd also like to share a big thank you to Harris Tweed® Weaver Gordon Macdonald (A Harris Tweed Weaver) for tying in the new beam for us. Some of you may have spotted this beautiful new pattern on our double width loom, replacing the 'Loud Macleod' tartan we had before.
Looking to book a visit to the room? See below!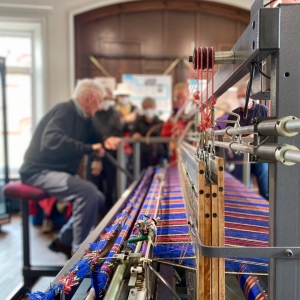 The Outer Hebrides – Designated World Craft City for Harris Tweed